How
The why and how we work with brands to succeed with filters.
Camera Effects for Campaigns
Fun and Utility
Versatile, compelling, powerful, and complimentary to brand activations.
Remixable branded UGC
Inventive, immersive, intimate, inside the selfie. and beyond.
Next level engagement
Unrivalled conversion, velocity, and reach for campaign performance.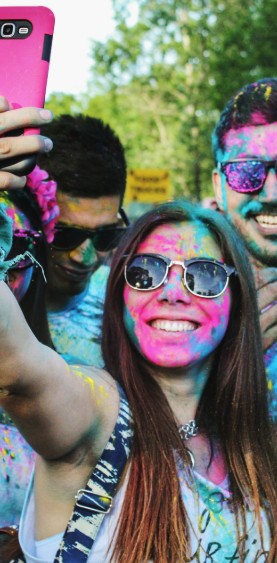 01 – Creative process
Thrill your fans
We design with your fans in mind. We listen, we're flexible. We can adapt your existing creative and build an optimal Camera Effect or craft from scratch to meet a communication brief.
02 – Production and testing
Rapid turnarounds,
close collaboration
Demo videos during production phase
Private test it links for your Camera Effect
Regular chat and video feedback sessions
Revisions and cross device testing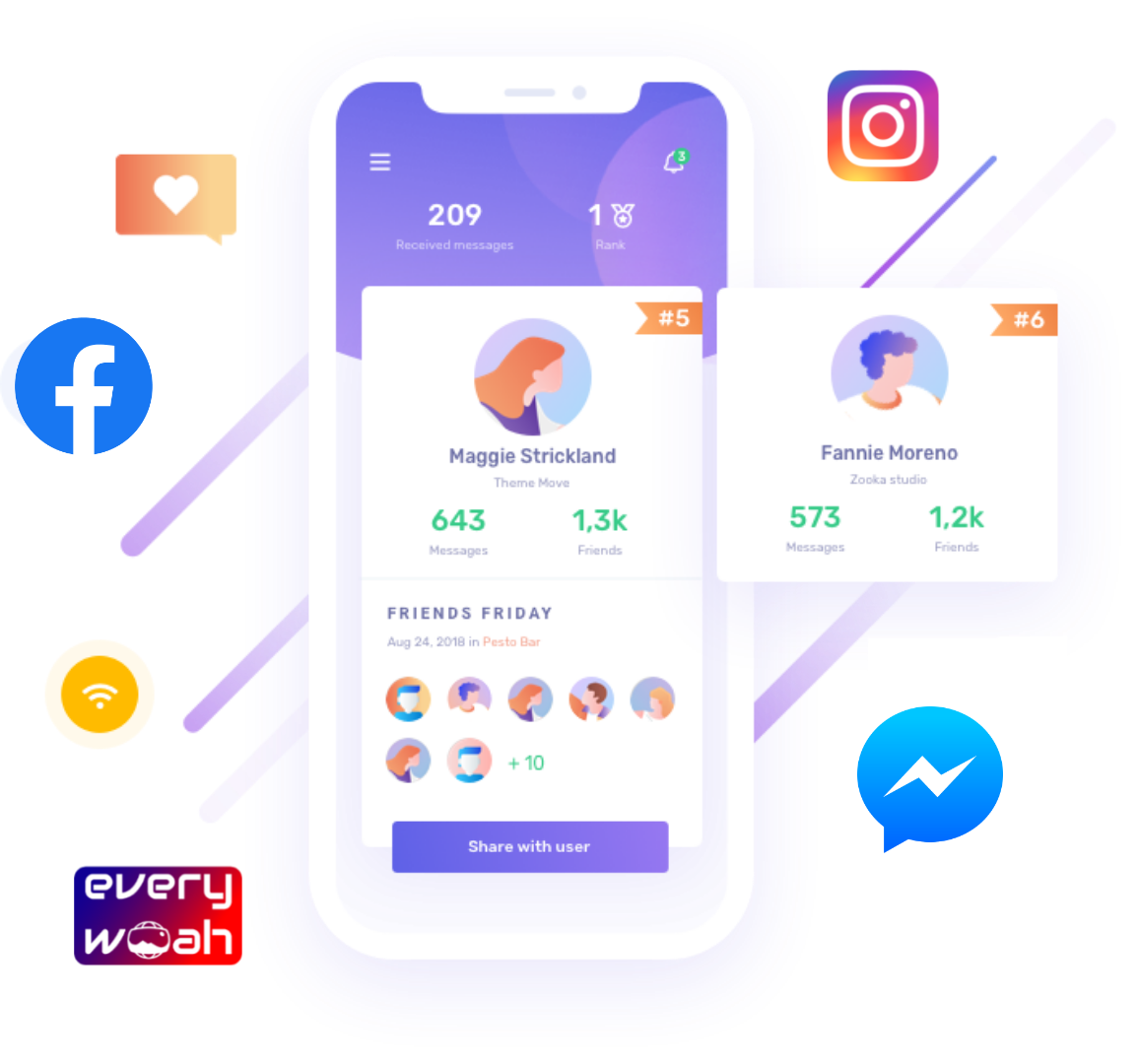 03-LAUNCH PLANNING
Fan Engagement Win
We know the quirks, limits, and opportunities of Spark AR. Video Calls to Action, incentivisation, contests, influencer planning; we'll guide you based on our experience of successful camera effect activations with proven techniques and honed strategies.
FAQs
Contact us if your Frequently Asked Question about AR filters is unanswered
Do you manage the creative or only development?
We do both. We often work with clients who already have an idea of the creative but may need guidance as to what is feasible with Spark AR. We can advise you what works, what tends to appeal to fans, and suggest feasible creative options for you.
How do you work a brief?
We listen first and advise how and if Spark AR or Snapchat can meet your campaign needs. Based on your creative concept, be it from an image, a sketched idea, or a video, we can produce a no obligation intial mood board slide deck with an outline description of a feasible camera effect. This typically takes two to three days after an initial video call held with you.
What's the turnaround time for a camera effect?
We guarantee to turnaround and deliver a campaign camera effect within six working days of a completed order agreement. Factors that affect delivery timetables include agreement of a creative brief, supply of valid assets, complexity of the agreed features, and typical approvals by Facebook Inc. Subject to workload, we may not be able to commence your filter development immediately. Contact us to check our current capacity.
How do I place an order for an AR filter?
Following an introductory video call and if possible a brief from you, a presented moodboard slide deck or quotation document from us, and agreed refinements, we issue an Order Agreement for every camera effect project, setting our the simple terms and invoice details between the parties to formalise an order. Subject to return of the Order Agreement and issue of Purchase Order we set to work on your camera effect or filter. We can do all of the above within three days though project start times may depend on our current workload.
How long does Facebook Inc. take to approve a filter?
Approvals for Spark AR camera effects, as of November 2019, can take upto ten business days for Instagram, some types even longer. Facebook camera effects are typically reviewed in less than a week.
How do fans get my filter?
Good question. Let's talk the example on Instagram for a moment. So everyone can try your filter from your profile on the sparkly smiley tab, in the app view, which will become enabled once your filter is published.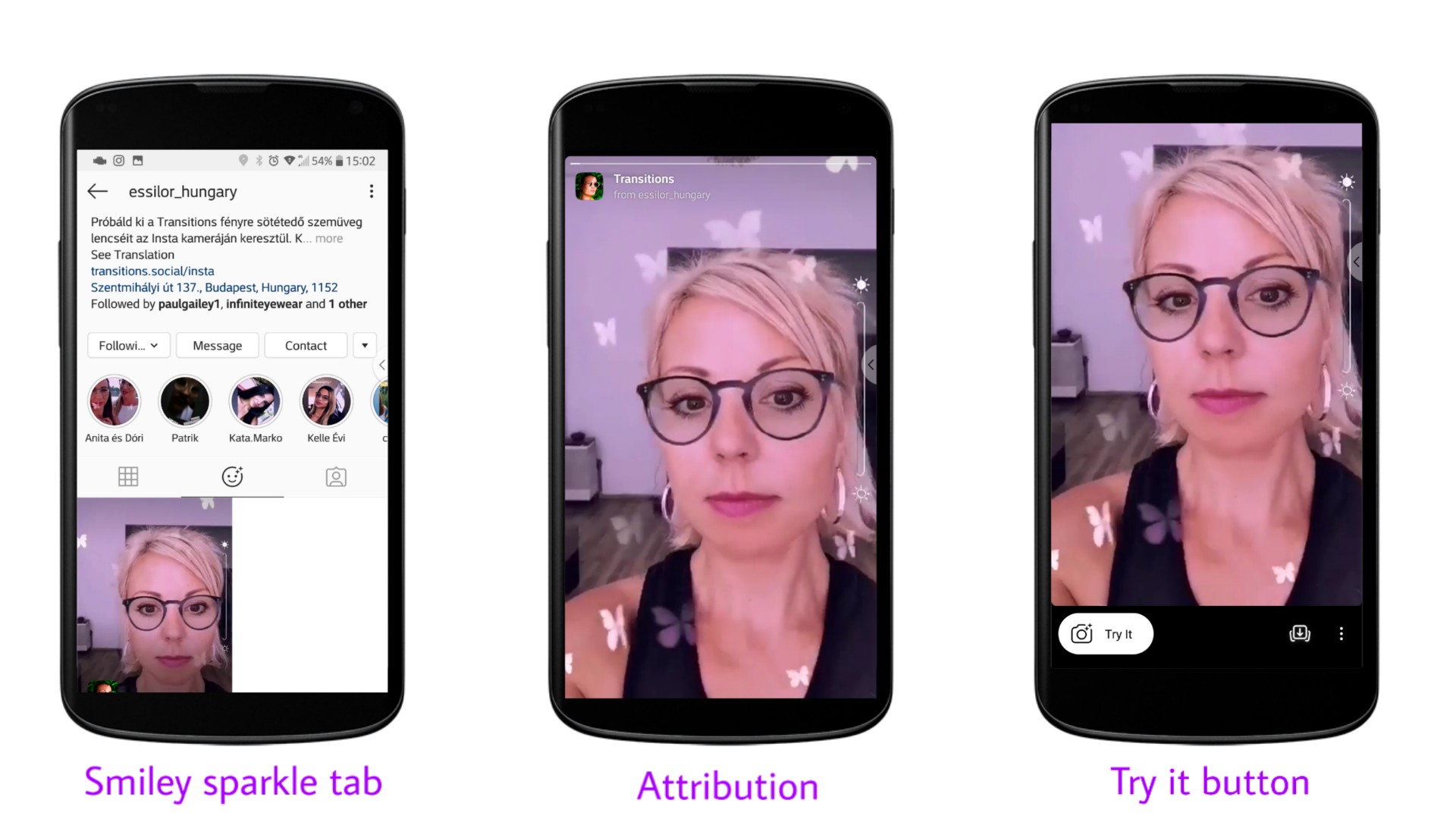 From there fans can see your demo video of the filter. Overlaid on the demo video is a Try It button which will load the camera effect/filter to their camera for them to try it. Whenever a video is published on Instagram with your filter, an attribution to your Instagram account and a clickable name of the filter will be visible on the top left. Furthermore, your demo video will be used by Instagram on "discovery services" throughout the app elsewhere.
How can I ensure my effect is approved by Facebook or Instagram?
Approvals are not automatic for submitted camera effects as all effects are subject to Facebook and Instagram guidelines and terms. We have ample experience of the practical guidelines and will lead you to ensure creative, policy, and technical compliance is met to minimise campaign risk of rejection.
Do you get my filter published?
In addition to the design and development of your camera effect, we undertake the submission and activation of your camera effect, and closely advise you how to publish, promote, and optimise it's launch be it on Facebook, Instagram , or within Messenger. In order to submit your camera effect for Facebook Inc. approval and to activate it, a Page or Profile Admin will need to delegate our developers as authorised Spark AR managers to the Page or Profile. We can advise how to complete this simple procedure and take care of the submission process. In short, yes, we get your filter published on Facebook Inc. apps.
Can you publish an Instagram AR filter for my brand profile?
As of now August 10th 2019, ALL brands can now publish compliant AR filters on Instagram as the beta has formally ended. Contact us to discuss your project.
What's the price for a camera effect project?
We price according to a structured Ratecard. We categorise camera effect development fees subject to complexity of Spark AR features. We discount based on volume, origination of creative assets, distribution channel, and other factors such as press coverage or significant social citation to a lesser degree. For example, if you can supply layered PSD assets, and/or 3d .obj models, this will significantly reduce the quotation for your camera effect. If your camera effect for example requires external networking, 3rd party API integration, or advanced React programming, or beta Spark AR features, the development fee may increase relative to an average camera effect fee. Contact us for a quotation.
Can you duplicate my filter for Facebook if I order an Instagram one for the same price?
Identical AR filters across Instagram and Facebook are not permitted by Facebook Inc. Furthermore, there are some policy and technical differences between the platforms. We can modify a filter to create a similar variant for either Facebook or Instagram. Fees for near similar variants are priced approximately a third of the total fee.
Is my branded effect campaign success guaranteed?
Like all campaigns, some effects are more successful than others. No two camera effects are alike just as no two brands are. There are many factors affecting the outcome not withstanding the technical and artistic merit of the camera effect. We will guide you during the planning, production, and launch phases with the goal of excellence at all times. We will work with you to avoid common errors, gain competitive advantage, and prepare for an optimal launch of your camera effect together with other stakeholders. Where there's a way, there's a woah.
Do my fans have to follow my Page or profile to get the filter on their device?
All Instagram, and Facebook filters are links, that anyone can try if they have the link. Non fans can store the filter to their camera tray for future, however all Page Fans, and Profile followers will always see the icon to the filter in their camera tray. Fans may also see a Try it link in their feeds and Stories on Facebook and Instagram , and other new sections of the Facebook Inc. family of apps as they evolve.
What's the difference between a camera effect and a filter?
None. The terminology is interchangeable. Formally referred to by Facebook Inc. as Camera Effects, they are also commonly referred to as filters, AR filters, face filters, lenses, effects, world effects, overlay stickers, stuff. This may vary by language and culture.
What metrics can will my filter have for measuring success?
Insights are available for published Facebook and Instagram camera AR effects. These are limited to eight metrics: Impressions, Opens, Captures, Saves, Shares, Gender, Age, Top Countries. Impressions or shares for effects used in live videos or direct messages are not currently included. Impressions are the number of times an effect has been displayed on screen which includes when an effect is shown while someone is trying it out in the Instagram camera, and when the effect is displayed in a shared story on Instagram. Impressions are itemised by channel. You can view the number of times an effect was shown in the Instagram camera as Camera impressions and in Instagram stories as Story impressions. The number of times someone captured a photo or video that featured your effect in the Instagram camera is displayed as Captures and Shares for Instagram effects is the number of times someone took and shared a photo or video that featured your effect to a story on Instagram. It is important to observe that Spark AR Spark metrics are not unique users. For example, if a follower scrolls past a Spark AR effect on a post, it counts as one impression. If they scroll past it again, it counts as another impression. In addition to the above, similar is available for Facebook metrics. Furthermore, the post level organic metrics of the camera effects offer further information of their performance, audience composition and when combined with short URL statistics a good deal more insight about your campaign can be discovered.
What new features are available?
Spark AR is continually evolving and in three years has iterated over one hundred times, with authoring software platform releases every month at least. There are some new features that we, as official Spark AR Partner Network members, sometimes have access to in advance of general release. We share these with Everywoah clients and qualified prospects.
How do you upload the effect to my profile for approval?
The Spark AR publishing platform allows for the Administrator of the parent Facebook Page of the Instagram account to create and delegate a "manager" group for Spark. As your delegated Spark AR manager, the Everywoah team will manage the process of platform compliant upload, testing link generation, submission, appeal if applicable, approval, scheduling and public activation of the camera effect, and subsequent metrics reporting and analysis. As a delegated Spark AR manager for your Facebook or Instagram profile, Everywoah only has these privileges, and not standard publishing rights of posts or story content to your Page or profile. This process to enable or revoke Everywoah team members as a Spark AR manager is a rapid one, with a few clicks in less than five minutes, it's possible and we will guide you through it during the production phase.
Do you make Reels filters?
Reels is an exciting addition to Instagram as of August 2020, that is built in to the app (unavailable in some territories) and allows people to use AR camera effects, aka filters, for their Reels. All Instagram AR filters are by default available to users on Reels. There are now a plethora of creative options with filters that may be more suitable for Reels. Contact us for more information.
Do you make Snapchat lenses?
Yes. We're certified Creative Lens Partners.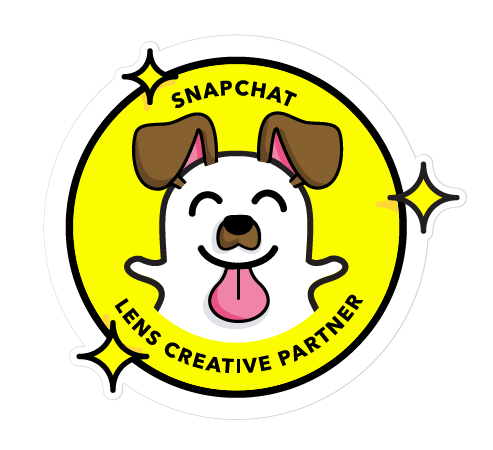 We've published several Snapchat lens that have amassed millions of impressions.
Check out Mad Love for
Mabel
.
What's the benefit of Everywoah being my Spark AR manager?
With over 70 brand camera effects published on the Spark AR platform over more than three years, we are confident to service our clients a smooth publishing workflow of a campaign filter. In addition to intimate knowledge of official publishing guidelines, as Spark AR Partner Members, we maintain a close relationship with Facebook Inc. and other creators to better understand possible practical limitations, dynamic approval times, enhanced support and opportunities, and technical bugs that may affect publishing at any one time.
How do I delegate you as my Spark AR manager?
In order for us to submit your camera effect for Fb Inc. approval and publish it, Everywoah developers must be added as Spark AR managers for your Facebook or Instagram Page profile. This is a rapid process. Facebook Page Administrators can complete this in a few minutes. To learn how to add Everywoah as a Spark AR managers, please either view:
Once you have delegated Everywoah as your Spark AR manager, we can generate and send you private test links so you can try your camera effect during the production phase before Fb Inc. submission and publication.
Grab a big discount
Stay in the loop and we'll gift you a discount for your first order