ManCity Partners AR FAQ
FAQ – ManCity Partners
Augmented Reality filters for Facebook and Instagram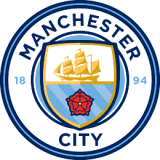 FAQs
Contact us if your Frequently Asked Question about the Partner AR filters is unanswered
How will my Partner AR filter be personalised?
Everywoah will adapt the AR filter for Facebook or Instagram with your Partner logo within the artwork. Partners logos will be displayed compliant to Spark AR terms and editorial guidelines.
This all sounds terribly exciting, what should I do next?
If you are responsible for social media management as a ManCity Partner and wish to have to the personalised AR filter for your followers, please complete the
ManCity Partners form
.
What will the Partners AR filter be like?
The AR filter design is a modern twist on a classic football collection sticker. The fan using the filter will appear within the artwork wearing the official ManCity team shirt. Your Partner logo will appear and a simulated photo related background will display. The AR filter is in development and a sample GIF of the
12th Man
with personalised key info, has been
emailed
to ManCity Partners on 26th May in advance of Page and profile publication.
I have filled out the form, what's next?
Once you have completed the form as an authorised ManCity Partner, Everywoah will prepare the AR filter for you. It is essential that you successfully add Everywoah as a Spark AR manager in order to proceed on time. Everywoah will send you a production link once your Partner AR filter passes Facebook Inc. review at Facebook during week commencing 24th May.
Can I check with Facebook about adding AR managers?
Spark AR, Facebook Inc. documentation about adding AR managers and permissions for Pages and profiles is
available here
.
What happens if I do not add you as Spark AR managers?
We will be unable to support you if we are not assigned as Spark AR Partner managers to your social media profiles. It is critical you follow the form instructions to add us as your Spark AR managers during the week commencing 24th May in due time. Use the
ManCity Partners form
to see hpw to assign Everywoah team members as your AR managers .
Who do I add as my Partner Spark AR manager
I've added AR managers, do I still need to complete the form?
Yes, all Partners are requested to complete the
ManCity Partners form
. This is a rapid process. Facebook Page Administrators can complete the form in a few minutes.
Why is there more than one version of the same filter?
There are multiple versions of the AR filter being prepared for different outcomes of the UEFA Champions League final. Multiple filters for each Partner will be prepared week commencing 24th May. Subject to the outcome of the Final, the most suitable version of the AR filter will be activated as prior agreed with Manchester City.
I have completed the form, what's next?
We will prepare the submission of your ManCity Partner filter within 8 business (CET) hours on your behalf and notify you by email that's it is in review with Facebook Inc. We will notify you again by email once it has been reviewed by Facebook and advise you of it's status, and provisional activation schedule. We will also advise you in advance of the final production links for the camera effects for Facebook and Instagram.
How long does Facebook Inc. take to review the filter?
Reviews for Spark AR camera effects, as of May 2021, are taking on average upto 48 hours, but in many cases, reviews are being completed in less than 18 business hours, and sometimes within the same business day. The official maximum is up to five business days, although as Spark AR Partners we may be able to assist expediting review times in exceptional circumstances.
How do fans get my filter?
Good question. Let's take this example on Instagram for a moment. So everyone can try your filter from your profile on the sparkly triple star tab, in the app view, which will become enabled once your filter is published.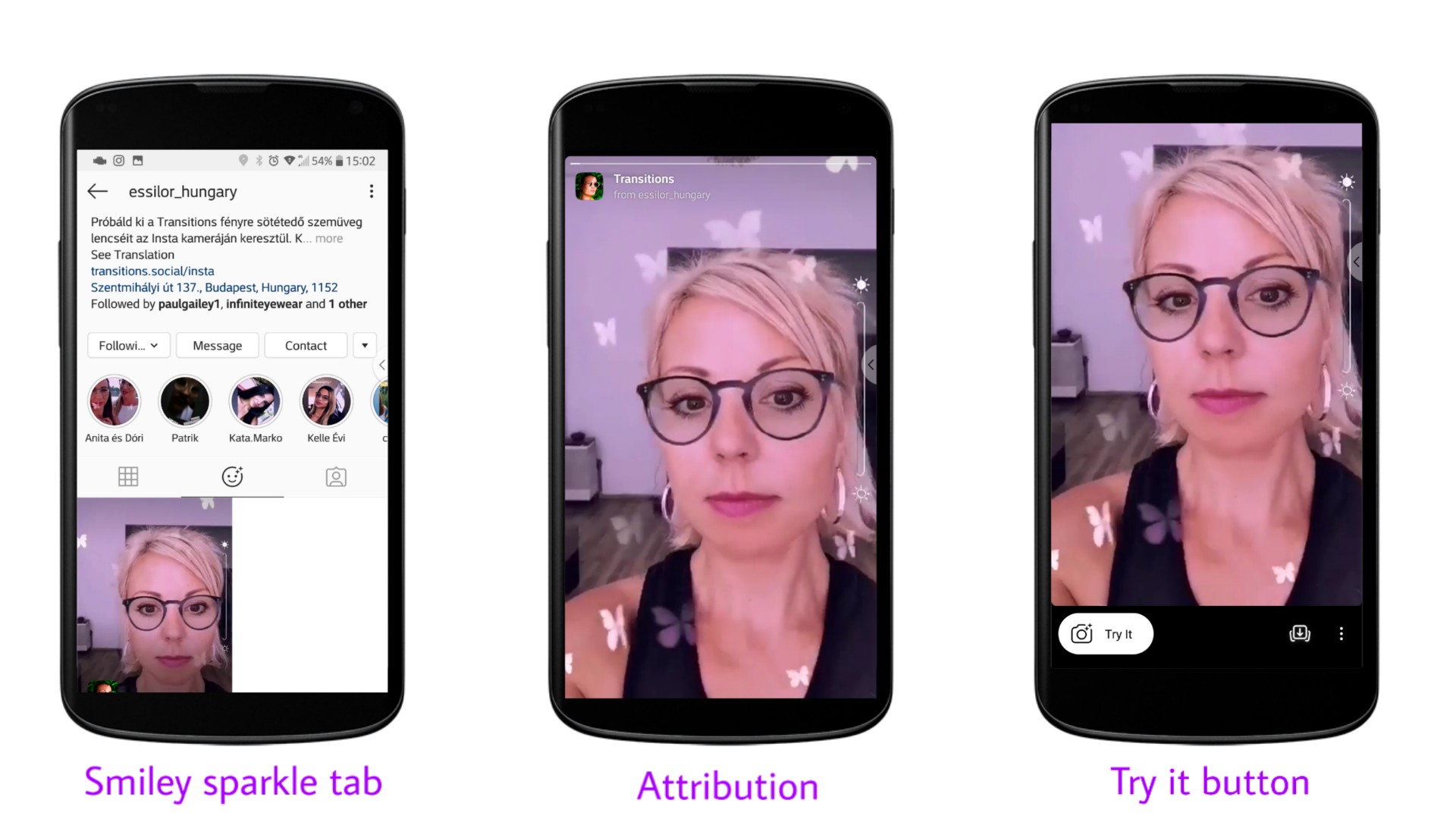 From there fans can see your demo video of the filter. Overlaid on the demo video is a Try It button which will load the camera effect/filter to their camera for them to try it. Whenever a video is published on Instagram with your filter, an attribution to your Instagram account and a clickable name of the filter will be visible on the top left. Furthermore, your demo video will be used by Instagram on "discovery services" throughout the app elsewhere.
How can I ensure my effect is approved by Facebook or Instagram?
Approvals are not automatic for submitted camera effects as all effects are subject to Facebook and Instagram guidelines and terms. Everywoah have extensive experience of creating branded camera effects and will ensure creative, policy, and technical compliance is met to minimise campaign risk of rejection and campaign delay.
Do Everywoah activate my Partner filter?
In addition to the design and development of the Team AR camera effect, Everywoah undertake the submission and activation of the camera effect, once it is approved, and after stakeholder agreement. In order to submit your camera effect for Facebook Inc. approval and to activate it, a Page Administrator will need to delegate our developers as authorised Spark AR managers to the Page or Profile. We detail how to complete this simple procedure and take care of the submission process on your behalf in the Partner form.
Do Everywoah need my social media password to our Partner account?
No. Everywoah do not need or have any access to Partner passwords. Everywoah, as Spark AR managers, do not have access to any other aspects of Partner social media accounts on Facebook or Instagram.
Do my fans have to follow my Page or profile to get the filter on their device?
All Instagram, and Facebook filters are links, that anyone can try if they have the link. Non fans can store the filter to their camera tray for future, however all Page Fans, and Profile followers will always see the icon to the filter in their camera tray. Fans may also see a Try it link in their feeds and Stories on Facebook and Instagram, and other new sections of the Facebook Inc. family of apps as they evolve.
What is the secret gallery?
It's available for filters on Instagram, when a mystery amount of success is achieved with a camera effect by audiences. It's a secret, for now 🤫......check back later on Thursday evening CET and more will be revealed.
What's the difference between a camera effect and a filter?
None. The terminology is interchangeable. Formally referred to by Facebook Inc. as Camera Effects, they are also commonly referred to as filters, AR filters, face filters, lenses, effects, world effects, overlay stickers, stuff. This may vary by language and culture.
What's the difference of Facebook or Facebook AR Ads as a channel for my filter?
Spark AR camera effects, aka filters, can be published at the moment in three channels. Instagram and/or Facebook or also as a Facebook AR Ad. If you wish to invest media expenditure in Facebook AR Ads, we can enable submission of the Team AR filter as an AR Ad so that it appears in your Ads Manager Page. AR content, generally speaking enjoys far higher engagement rate compared to "flat media" and as an AR Ad you can benefit from the audience targeting options that Facebook offers. Unlike regular AR camera effects, AR Ads also allow the advertiser to create a Call To Action and link from the ad externally to Facebook. FInd out more about
Facebook AR Ads
from the official Facebook Business Support pages.
What metrics will my filter have for measuring success?
Insights are available for published Facebook and Instagram camera AR effects. These are limited to eight metrics: Impressions, Opens, Captures, Saves, Shares, Gender, Age, Top Countries. Impressions or shares for effects used in live videos or direct messages are not currently included. Impressions are the number of times an effect has been displayed on screen which includes when an effect is shown while someone is trying it out in the Instagram camera, and when the effect is displayed in a shared story on Instagram. Impressions are itemised by channel. You can view the number of times an effect was shown in the Instagram camera as Camera impressions and in Instagram stories as Story impressions. The number of times someone captured a photo or video that featured your effect in the Instagram camera is displayed as Captures and Shares for Instagram effects is the number of times someone took and shared a photo or video that featured your effect to a story on Instagram. It is important to observe that Spark AR Spark metrics are
not
unique users. For example, if a follower scrolls past a Spark AR effect on a post, it counts as one impression. If they scroll past it again, it counts as another impression. In addition to the above, similar is available for Facebook metrics. To view your available AR metrics, open the
Spark AR hub
for your account and select
Insights
from the main menu. Furthermore, the post level organic metrics of the camera effects offer further information of their performance, audience composition and when combined with short URL statistics a good deal more insight about your campaign can be discovered.
How do you upload the effect to my profile for approval?
The Spark AR publishing platform allows for the Administrator of the parent Facebook Page of the Instagram account to create and delegate a "manager" group for Spark. As your delegated Spark AR manager, the Everywoah team will manage the process of platform compliant upload, testing link generation, submission, appeal if applicable, approval, scheduling and public activation of the camera effects. As a delegated Spark AR manager for your Facebook or Instagram profile, Everywoah only has these privileges, and not standard publishing rights of posts or story content to your Page or profile. This process to enable or revoke Everywoah team members as a Spark AR manager is a rapid one, with a few clicks in less than five minutes, it's possible and we will guide you through it during the production phase.
What's the benefit of Everywoah being my Spark AR manager?
With over 70 brand camera effects published on the Spark AR platform over more than three years and as a Fb Inc. AR Partner, we are confident to service ManCity Partners a smooth publishing workflow of a campaign filter for the Team behund the Team AR filter. In addition to intimate knowledge of official publishing guidelines, as Spark AR Partner Members, we maintain a close relationship with Facebook Inc. to better understand possible practical limitations, dynamic approval times, enhanced support and opportunities, and technical bugs that may affect publishing at any one time.
How do I delegate you as my Spark AR manager?
In order for us to submit your camera effect for Fb Inc. approval and publish it, Everywoah developers must be added as Spark AR managers for your Facebook or Instagram Page profile. This is a rapid process. Facebook Page Administrators can complete this in a few minutes. To learn how to add Everywoah as a Spark AR managers, please either view:
Once you have delegated Everywoah as your Spark AR manager, we can generate and send you private test links so you can try your camera effect during the production phase before Fb Inc. submission and publication.
How can I disable the 12th Man AR filter for my Page or profile?
As the Admin or Editor of the Facebook or Instagram account, you may update the 12th Man camera effect at any time from the
Spark AR dashboard
yourself. For example, to remove your effect: You can remove your published effects from all supported platforms. Removing an effect means your effect won't be visible to anyone, and you won't be able to recover it. To remove an effect, in Spark AR Hub: -Click
Effects
in the sidebar. -Click on the name of the effect you want to remove. -Click the three dot icon in the top-right corner. -Select
Remove Effect
.